Bresaola with Fresh Goat Cheese and Marinated Vegetables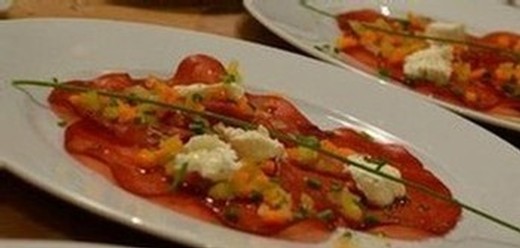 Recipe Date:
October 20, 2019
Measurements:
Imperial (US)
Bresaola is eaten everywhere in Italy, but we bring it back with us to Burgundy whenever we can. It is usually served simply with arugula, shavings of parmesan, a little lemon and olive oil. Purists like it as-is, eating it with their fingers, savoring its intriguing bouquet. In this recipe, marinated vegetables and fresh goat's cheese complement the complexity of the bresaola, making an elegant mouthful.
Ingredients
carrot
celery
onion
garlic
bay leaf
peppercorns
vinegar
olive oil
fine sea salt
fresh ground black pepper
goat cheese
fresh chive
Directions
Bring a small saucepan of water with a pinch of salt to a boil. Add the carrot, celery, onion, garlic, bay leaf, peppercorns and vinegar. Blanch the vegetables for three minutes and drain. Put in a small bowl and let cool slightly. Add 2 tablespoons of the olive oil and season with salt and pepper. Marinate the vegetables for a couple of hours at room temperature.
When ready to serve, arrange the slices of bresaola on large flat plates. With the tip of a knife dot each slice with a few nuggets of goat's cheese. Sprinkle over the vegetables. Season again with salt and drizzle over a little olive oil. Serve with snips of fresh chive.
Back to Recipes