Aged Côte de Boeuf, Slow Roasted with a Compound Butter, Garden Vegetables & Local Mushrooms.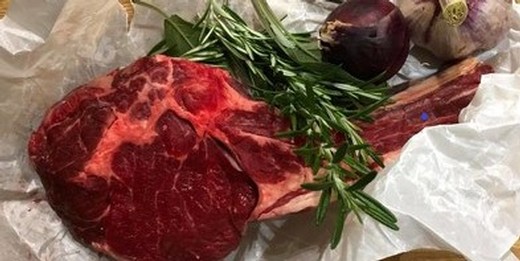 Recipe Date:
July 4, 2020
Measurements:
Imperial (US)
In the Domaine de Cromey we use many traditional cookery methods and dry-ageing our beef is one. This process reduces the water content, changing the protein structure, resulting in a more flavorsome and tender joint. We are serving it with freshly dug homegrown potatoes, a compound butter, flavored with horseradish-garlic & chives all from our garden. Seasonal vegetables, and local mushrooms. Please check out our YouTube channel for a tutorial of this recipe.
Ingredients
3 lbs Côte de Boeuf
1 Onion
1 Leek
1 lb Fresh mushrooms (we used plurette & brown button)
1 cup Mixed beet leaves.
3 tbsps Chopped chives
2 Cloves garlic
2 Pinches ground pepper mix
2 tbsps Grated fresh horseradish
2 Pinches good quality sea salt (we used maldron)
12 ozs Butter
1 lb Fresh quality potatoes.
Directions
To dry-age the beef ; we have a small fridge. We turn it to the warmest setting and hang our joint using two hooks. Alternatively you could just lay the meat onto a wire rack and turn over after one week. The amount of ageing you enjoy is a personal choice, so maybe start with a couple of days for your first piece of beef and work upwards from there.
Pre-heat your oven to 160f (yes, it's low) Take a roasting tray and add a base of sliced onion. place the lightly oiled beef on top. Cook for 6hrs.
To make the compound butter ; allow the butter to soften at room temperature, finely chop the chives, grate the horseradish and garlic cloves, add pepper and salt. Lightly combine in a mixer using a paddle. Remove and roll the flavored butter in greaseproof/parchement paper. Set aside in the refridgerator.
Wash the potatoes, do not peel and cover in cold water, bring to the a simmer for 20 minutes until tender.
Chop half the leek, and mushrooms (medium size) Pre-heat a large frying pan. Remove the beef and seal on the hot pan, set aside to rest. Add leek, mushrooms and allow to fry for 5 mins, add cream, add beet leaves.
To serve ; Place a portion of the vegetables in the centre of the plate, thinly slice the beef and place on top, season. Add a thick slice of the compound butter. The potatoes are served on the side, simply seasoned.
We served this with a Domaine Marchand Frères Gevrey Chambertain 'Vieille Vignes' available to purchase in our wine shop.
We have made a YouTube video of this recipe so please also follow our channel.
Back to Recipes