TOP
Gamay
The Gamay Varietal

Burgundy's 'other' red grape—Gamay—is not as well known or understood as Pinot Noir, but it is equally as deserving of it place in Burgundian history and culture. If you've ever drunk the light, fruity, slightly acidic wines from the blue granite-based hills of Beaujolais then you have drunk the Gamay grape. It arrived there in about the 14th Century and despite much dislike amongst the nobility has remained there pretty much ever since. It's a very fruity grape, notably lighter and less complex than Pinot Noir—but then again, also notably cheaper in many cases.
These purple grapes do not grow as vigorously as some varieties, and so need careful tending to prevent them from fading over the course of the season. As opposed to Pinot Noir, Gamay likes granite-based, acid soils. It buds early, so Spring frosts are a concern, as is millerandage (the abortion of flowers that produces bunches of irregularly shaped grapes).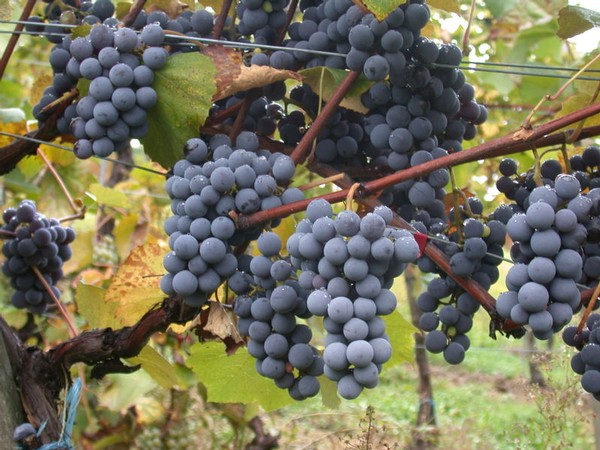 It is true that wines made from Gamay in Beaujolais haven't always had the best reputation; sometimes that has been deserved, other times not. Beaujolais Nouveau wine, for example, has a chequered reputation and used to be seen as somewhat lightweight and below par, but great strides in quality have been made recently.
If you have the chance, try some of the famous 'Crus' Beaujolais (not to be confused with Beaujolais or Beaujolais-Villages). From the north to south there are 10 Crus, all fed by the tributaries of the Saône, itself a tributary of the mighty Rhône. First there is Saint-Amour, then Juliénas, Chénas, Moulin-à-Vent, Fleurie, Chiroubles, Morgon, Régnié, Côte de Brouilly, and finally Brouilly.
Gamay is also cultivated more northerly in Burgundy, in the Mâconnais, and most Mâcon Rouge is based on this grape. France is the world's largest producer of Gamay by quite some margin, but you'll also find it in Switzerland, the USA and Canada, often blended with Pinot Noir.
The colour: Gamay wines are deeply colored and range from ruby to purple, depending on the cru and the vintage.
On the nose: with such a fruity wine, it's a good idea to use a large bowl-shaped glass to fully capture all the aromas on the nose that the grape can offer. You can expect to get anything from the fruity end of the spectrum (cherry, plum, raspberry) right through to the flowery end of the scale (violet, iris, peony).
On the palate: these are wines of high acidity, occasionally tart, but always refreshing and interesting. Some can also be deeper and more complex in character. Each Crus, of course, has its own personality which rewards drinkers in many and various ways – whether it be the elegance of Côte de Brouilly, the power of Morgon, or the earthiness of Juliénas. In the summer, the reds can be pleasingly chilled to provide refreshment on a hot day. Gamay wines complement charcuterie and other cold meats very well, as well as white cheeses which are not too ripe – this makes it an excellent picnic wine.
Did you know: Gamay has not had an easy history in Burgundy. The Dukes of Burgundy did not favor the Gamay grape. Philip the Bold declared in 1395 that the 'base and unfaithful Gamay' should be kept south of Mâcon, in fact a place where it naturally thrives. Luckily, news of the Duke's wishes did not seem to reach Beaujolais in southern Burgundy, and pockets of the grape continued to be cultivated. It was shunned as a grape, however, for much of the next eight hundred years, until in 1937 it finally attained recognition and a Protected Designation of Origin (PDO).