Alfredo Tagliatelle with Flaked Sea Trout and Tarragon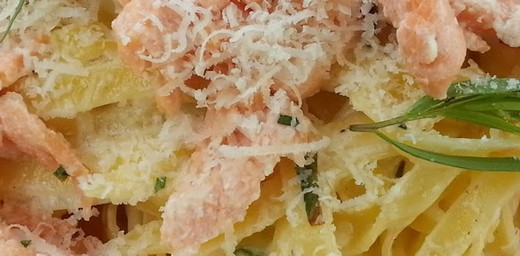 Recipe Date:
March 7, 2019
Measurements:
Imperial (US)
Moist sea trout and tangy tarragon turn the old stand-by Alfredo into something fit for a noble wine. Bring out your White Burgundy! You can use sea trout or salmon for this recipe. We cook the fish wrapped in foil with lemon, tarragon and onion to keep it moist and to infuse it with flavor. Alfredo Tagliatelle with Flaked Sea Trout and Tarragon
Ingredients
1 lb (450 gr) fresh egg tagliatelle
1 lb (460 gr) hot roasted smoked trout or salmon
1 cup (240 ml) liquid heavy cream
4 ozs (110 gr) unsalted butter at room temperature
Zest and juice of 3 organic lemons
2 tbsps chopped fresh tarragon
Fine sea salt
Freshly ground black pepper
Directions
Preheat the oven to 350° F/180 C
On a large piece of heavy foil put the fish filet, sliced lemon, tarragon sprigs and red onion. Season with salt and pepper and seal the packet. Bake the fish depending on the thickness of the filet for 10-15 minutes. Check after 10 minutes and if the fish is slightly under done it's done. Discard the lemon slices, tarragon and onion. Flake the fish removing any bones and skin.
Put a large pot with 6 quarts of water on to boil. Add 2 tablespoons coarse salt and cover.In a saucepan large enough to hold the pasta gently heat the cream and add the butter until just melted. Stir in the zest and juice of the lemons and season with salt and pepper to taste. Just before draining the pasta, add the flaked fish and chopped tarragon to the sauce.
When the water has come to a rolling boil add the pasta and cook for 3-4 minutes, al dente. Drain and add to the warm sauce. Sprinkle over with parmesan and toss to just heat through. Serve immediately on warm plates.
Bon Appétit
Back to Recipes