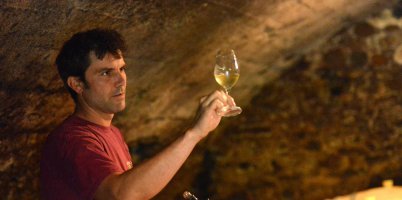 WHITES
Saint Veran 'Tradition'
Saint Veran 'Les Champs Rond'
Bourgogne Chardonnay
Bourgogne Heritage
REDS
Beaujolais Villages 'Terre Rouge'
Morgon
Morgon 'Château Gaillard'
Romuald Petit
After the oenological studies and vineyard experience that took him to several different regions of France, Romuald Petit returned to his roots in 2005 to create a domain with just over 14 acres of vines in Saint-Verand.
Even if the domain has grown a bit since those early days, his objectives and ideology remain the same: to produce authentic, high-quality wine using artisanal methods respectful of the environment. He assumes the responsibility of his heritage, which he is trying to preserve and pass on to his children.
The domain today is nearly 29 acres, of which 19 are in Saint-Verand, with limestone soils typical of this part of the Maconnais, where 80% of the wine produced is white. The other 10 acres are on the schist and granite of Morgon in the Beaujolais, where Gamay is the grape, and red is the color.
SAINT-VERAND
The whites of Saint-Verand are almost exclusively produced from Chardonnay, which is ideally suited for the terroir of the region. Limestone soils are mixed across the region with variants of marne and sedimentary volcanic soils. So each vineyard, each wine, is worked separately, to allow these soil variations to express themselves.
VILLIE-MORGON
Gamay likewise finds its perfect soil in Morgon. It's a very poor soil made up of decomposed granite, which allows the grape to express its various fruity characteristics, its finesse and its complexity. This was the heart of the original family domain, so many of the vines here are very old. The youngest are 45 years old; the oldest, more than 100. So naturally, yields are very low and concentration is high.
Overall, the domain is made up of relatively old vines, and is composed of many small parcels. Add to this the very steep nature of the landscape, and you see that most of the vineyard work is by nature manual.
So this is not, and could not be, intensive agriculture. Pruning in winter is manual, 'guyot' for the Chardonnay and 'gobelet' for the Gamay. Organic material is used, plowed in, and then allowed to develop a temporary grassy cover crop.