TOP
Paul-Henri Thillardon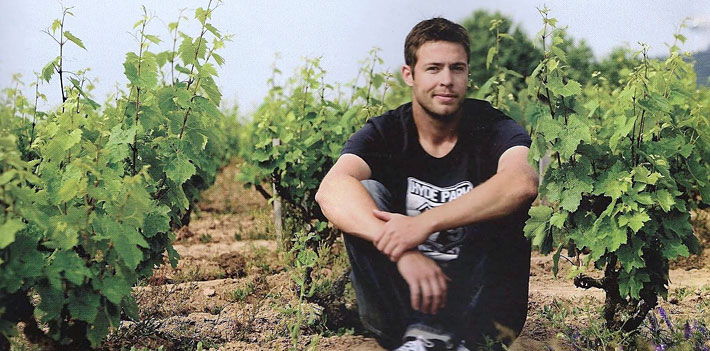 Appellations
Chenas 'Les Carrieres'
Chenas 'Les Boccards'
Chenas 'La Reserve des Blemonts'
Chenas 'Les Carrieres-Origine'
Chenas 'Les Vibrations'
Beaujolais 'Frontenas'
Paul-Henri Thillardon
Paul-Henri Thillardon is, at a very young age, a masterful winemaker. It's got to be a gift, he has perfect pitch and his wines sing.
Chenas is not far from Moulin-a-Vent, and for that reason the wines can show much of the same muscle. Paul-Henri brings you this concentration, but knows where the balance point is for elegance. We call it 'grown-up wine.
In 2008, at the age of 22, he made the important decision to dedicate his work to the cru of Chenas, rather than in neighboring and better-known Moulin-a-Vent which usurps much of the notoriety of Chenas. Tilting at windmills, some say.
He began with 3 hectares (7.2 acres) of family vines in appellation Beaujolais, then the following year entered into a sharecrop deal for 2 hectares (4.8 acres) in Chenas near the Château Boccard on granite soil in the climat Deschamps, a vineyard that had been tended organically for 15 years prior. He was able to use the château's winemaking facilities, and so, early on, had optimum working conditions.
Then in 2010, he planted an acre of vines on a beautiful south-east facing parcel in Chiroubles, and another parcel of Viognier grapes, a variety that is not authorized in the Beaujolais rules. By early 2011, the domain covered 5.7 hectares (13.7 acres) with his Chenas vines an average of 40 years old.
Principles
From the outset, Paul-Henri has avidly pursued organic, biodynamic, farming techniques. The vineyards in Chenas are certified bio AB, and the Beaujolais vineyards are as well, since the 2011 vintage. He has shown an natural ability to produce quality wines respectful of the terroir and the environment.
The vines are treated with biodynamic compounds and preparations (nettle manure, comfrey, horsetail, seaweed) to strengthen their natural defense mechanisms. He uses a horse-drawn plow to promote ventilation of the soils and to let microbial life flourish.
Vinification
The grapes are picked and brought to sorting tables in the winery where they are picked over bunch by bunch to assure quality. Vinification is traditional Burgundian, destalked and leaving the grape berries whole, with long maceration and moderate extraction.
This yields fine, subtle, racy wines. The Chenas 'Les Carrieres' is bottled after Easter, while the other parcels' cuvees are left longer, a year if not more, if the potential allows. This is judged simply by tasting. No sulfur is used until the wine is bottled.