TOP
Domaine Oudin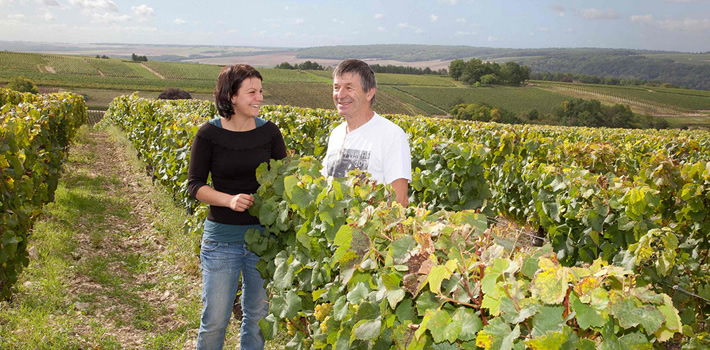 Appellations
Chablis
Chablis 'Les Serres'
Chablis 1er Cru 'Vaugiraut'
Chablis 1er Cru 'Vaucoupin'
Domaine Oudin
The Domaine Oudin came to be in the late 1980s when Jean-Claude and Christine Oudin left the stress of Paris life behind and settled near the bridge in Chichée to raise their two daughters and to develop a small 5 acre vineyard they had inherited near Chablis. Today, the daughters, Nathalie and Isabelle, oversee almost 20 acres of Chardonnay. From the outset, theirs has been a natural viticulture, respectful of the environment, and a style of winemaking that is at once simple and modern.
Chablis 'Les Serres' is a selection of the domain's best AOC Chablis grapes that are aged for two years on the lees in stainless steel.
Principles
The vineyards are worked using organic methods and treatments. These techniques are part of a desire to maintain a balanced soil that allows the vine to reach its full potential and thus the development of healthy grapes that reflect the parcel they come from. Treatments are kept to a strict minimum, and work in the vines has returned to traditional ploughing and manual labor. Chardonnay is a highly productive grape variety, so the domain strictly controls yields with severe pruning and by reducing the number of buds if necessary. For the Oudins, this extra time spent in the vines guarantees a true expression of 'terroir' and beautiful, impeccable fruit.
Vinification
Winemaking at the Domaine Oudin is seen as a simple process of transforming their perfect fruit into wine. The grapes arrive quickly to the cellar where they are pressed with modern equipment to maintain the purity of the juice. Natural fermentation takes place in stainless steel tanks, and the wines are aged on their lees, again in stainless steel, to allow the wine to develop the minerality and vivacity offered by the native kimmeridgian soils and to express these very specific 'terroirs' and weather conditions. The domain does not use oak at any stage of the production.
In its youth, Chablis typically has notes of white flowers and fresh fruits. They can age 5 to 10 years (and up to 15 in some vintages) and will develop secondary aromas and flavors like honey and vanilla before evolving to hazelnut and earthy undergrowth.