TOP
Hospices de Beaune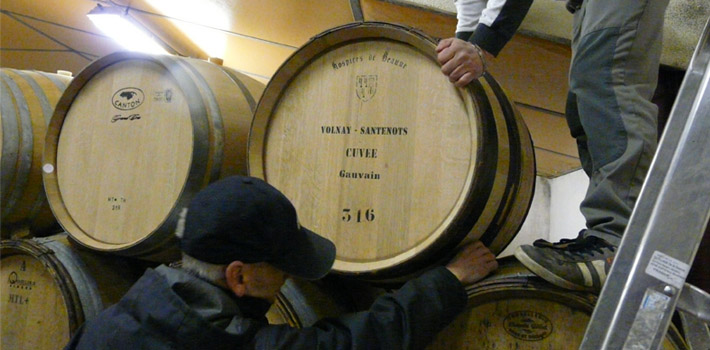 Our Barrel from the Hospices
Here is our story from the 2013 auction. We'll be adding Hospice auction stories as we buy and age these wines. Check back. This 2013 wine, delicious now, is really only beginning to come in to its own. And still available...

Nearly 2 months after the excitement of the annual wine auction at the Hospices de Beaune, we went to the Hospices' cuverie to pick up our prized barrel. It's a Volnay 1er Cru 'Santenots' Cuvee Gauvin (could you have missed our earlier posts?) and we're as excited today as we were at the event.

I arrived at the Hospices' cellars at 9am to meet with Pascal and Laurent of the Domaine Borgeot who are raising the Santenots for us. Coddled like a baby as it made its way up from the cellar, our barrel was respectfully fork-lifted into the Borgeot van, then chocked up and padded for the 15 minute drive to the Borgeot cuverie in Remigny.

The brothers were noticeably pleased to have such a treasure in their hands. They themselves make some impressive wines. Chassagne-Montrachet, Puligny-Montrachet and some of the best Santenay in the region. But Volnay 'Santenot' is something special by any estimation. And for Burgundian wine folk, the Hospices traditions run deep.

Volnay 'Santenots' has been a treasured vineyard since the earliest mentions of it in the 13th century at the Abbaye de Tart. But if you want to find it on a vineyard map, don't look in Volnay! The entire parcel lies wholly in Meursault. But because Meursault is known primarily for its white wines, and the wines made in Les Santenots so closely resemble Volnay, the traditional cross-border courtesy remains.

What is different in Les Santenots compared to other top Volnays is that the vineyard has a higher concentration of clay, hence the wines are richer and more full-bodied than a typically floral Volnay.

We arrived at Domaine Borgeot, and prepared to take our barrel to the cellar. The Borgeot 2013 harvest is there in the barrel, stacked three-high at the back of the cuverie. There was, coincidentally, one space left on the top of the stacks at the very end. This place they reserved for our prized Santenots.

The brothers went at it as they have done a thousand times before. With reflex and coordination, and impeccable perfection, the hulking barrel was lifted and settled into place. After dozens of restarts and adjustments, they were satisfied that it was balanced and steady. So they chocked it once again and turned away with big smiles. The hard part was done. Now we wait.
I of course would have loved to taste it then and there. But no matter how gently the wine was handled and transported, it had been jostled as it would only be once in its life, and the lees would remain in suspension for weeks. So I have a rendez-vous with the Borgeots in mid-February, when I get back from the Boston Wine Expo, to taste 'our' wine once again.

There will be decisions to be made at that time about how to proceed with a 2013 Volnay 1er Cru 'Santenots'. Especially one made by the Hospices de Beaune.. So stay tuned: we're going to be talking about aging wine in wood from a first-hand perspective.
Dennis Sherman