TOP
Elise Villiers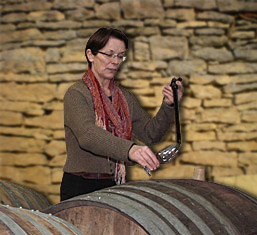 We first met Elise Villiers not long after she started making wine in Vezelay. She was a late-comer to wine making, but showed talent and flair right from the start. We were cruising the Nivernais canal with our hotel-barge 'Papillon' and had struck up friendships with a group of winemakers and oenologists in the Auxerrois region near Chablis.
It was 1992, I would guess. Elise got started in 1989, and was working with the oenologist, Veronique Vallenot, with whom I earned my chops in Chablis. And at a time when Vezelay was a backwater sub-category of appellation Bourgogne, her wines were getting noticed. Didier Picq, one of the great Chablis producers of this generation, raved about her. So we went to taste her wines in Precy Le Moult, up in the hills behind Vezelay.
And we were blown away. She was happy to sell us wine to serve on the barge. But she balked at the idea of exporting. She was a newbie to the wine business, and had enough on her plate. So we had to content ourselves with introducing her wines to the lucky few who were cruising with us at the time. And when we sold the Papillon, we lost direct contact with Elise.
Fast forward to 2017. On the back of Elise's work and dedication, Vezelay is awarded its 'village' appellation. And that was cause to celebrate. At a professional tasting following the Saint Vincent Tournante festival, we met up again with Elise and her amazing wine.
After a nostalgic tasting at the event, we again went to Precy Le Moult to taste and talk, and we had a look at the idea of export from the vantage point of our 29 years' experience.
Today her domain covers 4 hectares (just under 10 acres) which she works with a tractor man and a right-hand vineyard helper. She still works solo in the winery however.
The domain is planted 2/3 in Chardonnay and 1/3 in Pinot Noir. Her original vineyard, 'Le Clos', situated on the step east-flank of the Vezelay hill, is planted in both white and red. The soil is light and gravelly, and vine roots can dig deep yielding wines with tension and minerality. Her white Le Clos has structure and complexity, and is apt to aging. It has much in common with Chablis, but also its own individuality.
Here second vineyard, which she planted in 1990, she calls 'La Chevaliere'. It's away from the hillside of Vezelay in Tharoiseau on the right bank of the river Cure. It's more clay and limestone, yielding freshness and fruit with a mineral under pinning. She makes these wines in tanks to keep the youthful vivacity.