TOP
Chateau de Vergisson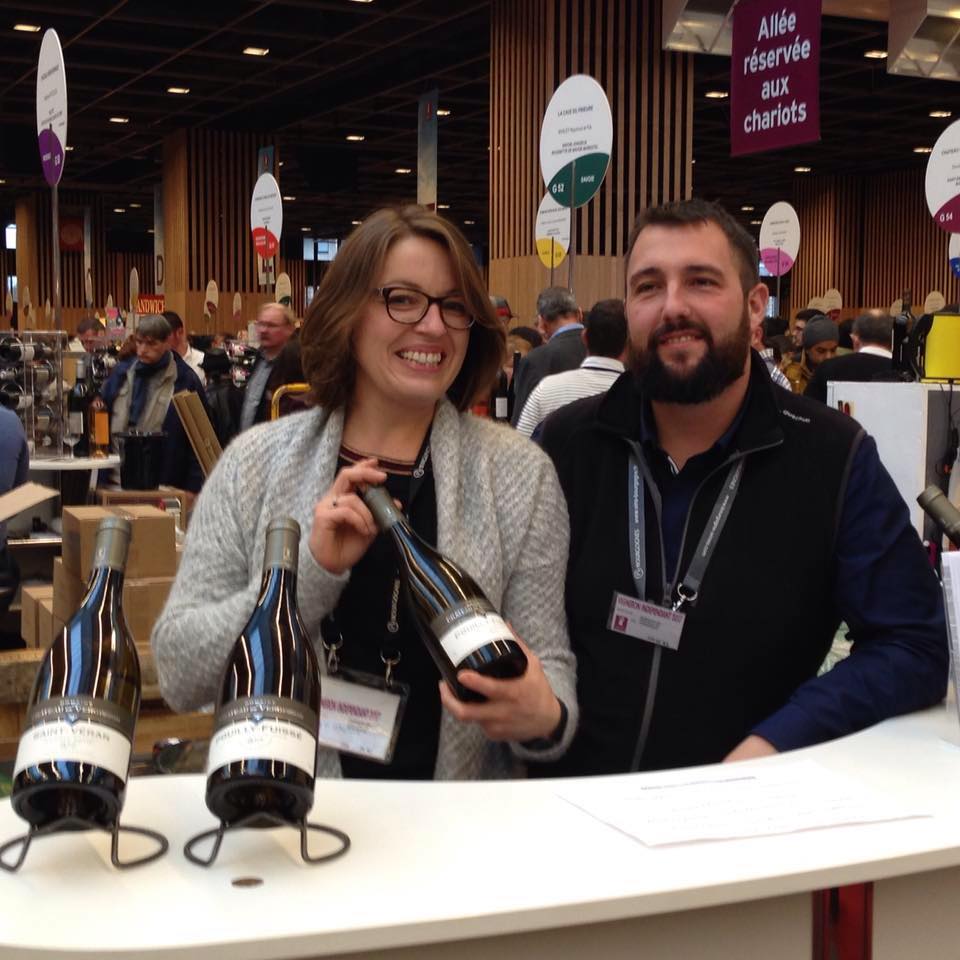 APPELLATIONS
Macon-Solutré
Saint-Veran
Saint-Veran 'La Cote Rôtie'
Pouilly-Fuisse
Pouilly-Fuisse 'Clos en Charmont'
Pouilly-Fuisse 'Sur la Roche'
After having taken over their family vineyards, Stephanie Saumaize and Pierre Laroche created the Domaine du Chateau de Vergisson in 2012, and were soon turning heads in Pouilly-Fuisse and the Maconnais. The young couple are from two different families of grape farmers, Stephanie from Solutre and Pierre from Vergisson, villages that sit at the base of the dominant limestone outcrops that mark both the terrain and the terroir of Pouilly Fuisse.
Neither family made wine, however. Rather they sold their produce to negociant houses in the area. So when Stephanie and Pierre took over the vineyards, renovated the Chateau de Vergisson as their home and winery and started bottling under their own label, they appeared to come out of nowhere. And for us, it is a match made in Elden wine heaven!
Their first vintage was 2012, so the domain is still relatively unknown. But the quality and finesse of their production thrust them into the limelight here in Burgundy, and we are pleased to be the first to bring their wines to the US.
Le domain lays out over 10 ha (24 acres), mostly in appellation Pouilly-Fuisse, though they also produce appellation Saint Veran and Macon-Solutre.
They have three distinct 'cuvees' of Pouilly-Fuisse, notably an old-vine parcel of 'Sur la Roche' in Vergisson which was planted by Pierre's great-grandfather nearly 100 years ago. 'Sur la Roche' will soon be elevated to 'premier cru' status, so keep this one on your radar. They also have a holding in the tiny 'Clos en Charmont' which produces an astoundingly explosive Pouilly-Fuisse.
While their vineyard work is organic, the couple are not ready to jump through the hoops necessary to have the official accreditation. Perhaps in the future, Pierre says. They feel that their installation is still young, so they are taking things as they develop.
Their families used to harvest by machine, but Stephanie and Pierre returned to manual harvesting in 2015. It's an important change qualitatively. Grapes from quality vineyards in the Maconnais need to be watched closely for maturity. Their's are wine of great depth, richness and opulence which require attention to detail.
New oak is used judiciously, and only on certain 'cuvees'. Their Saint-Veran 'la Cote Rotie' and the Pouilly-Fuisse 'Clos en Charmont' are raised in larger-than-normal (500 liter) barrels, so that oak does not dominate wine.
Up to now, these wines were sold principally in France. But the word is out. With a bevy of gold and silver awards that they started to collect right from their first vintage, the Domaine du Chateau de Vergisson is the new kid on the block and already one of the top producers in the appellation.