TOP
Domaine Thierry Richoux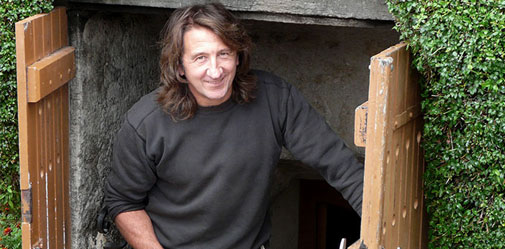 Domaine Thierry Richoux
On slopes above the Yonne river valley, 15 km from Chablis, a handful of winemakers are cultivating a reputation for red Burgundy at the northernmost limit of possibility.
While Chablis, of course, is famous and white, Irancy has always been red and has always lived in the shadow of a bigger Burgundy. But in the 10 years since Irancy earned its village 'appellation''' (before 1999 it was labeled 'Bourgogne' with the mention 'Irancy' allowed in smaller script), something remarkable has happened.
Irancy is being made as Irancy… and not as a pale imitation of a big-gun Cotes de Nuits. Banal as that may sound, it required a dramatic shift in the thinking of this tiny farm community.
In wine-making geography, Irancy is on the border between still and sparkling. Champagne is the region just to the north, and it thrives on the serendipitous discovery that under-ripe acidic wines can be made to hold bubbles brilliantly.
The flip side is that Pinot Noir in Irancy usually struggles its way to maturity. Any still wine grown further north of here is either made from high-altitude white wine grapes (as in Alsace) or is considered a curiosity. Irancy itself was a curiosity until the 70s. Although its rosé had long been the darling of chi-chi Paris, that was more by artifice than design: a canny result of a presumed necessity to bleed off a volume of juice before pressing so that the 'real' wine – the red wine – had more color and concentration. It's a nifty trick, and it makes some wonderful Pinot rosé, but it's hardly the stuff reputations are made of.
Another trick, patently un-Burgundian, is that traditionally Irancy has been allowed to add 10% of a grape called 'Cesar' to the purity of the Pinot. Though it gives you lots of color (think Italian 'colorino'), there's not much else. Nothing subtle, but it makes the wine presentable to a broader clientele. All this has changed.

The first Irancy vintage we bought was 1984. We bought it from Jean-Claude Richoux, the first farmer in Irancy to go full-time into wine. A fine winemaker, he was ahead of his time by Irancy standards, but right in step with the revolution that was taking place elsewhere in Burgundy back then.
Irancy '84 was a great starting place… it was generally considered a bad vintage. Jean-Claude told us right from the beginning that he was not trying to compete with other Burgundy 'appellations'; he was just trying to make great Pinot Noir. He said that if you are looking for color in Pinot, you've missed the point. Some years you get red, some years you get quasi rosé. 1984 was quasi rosé. And then, surprise: several years later it was a lovely lacy – and didactic – taste of Pinot at its most ethereal.
Jean-Claude's son, Thierry, learned to be a good wine maker from his father. In the past 15 years he has become a great wine maker. He has the Irancy ethic, knows the many and varied parcels that cover the 160 Ha (384 acres) of AOC Irancy as if by nature. And he's from a clutch of winemakers who have come to see the farming part as sine qua non.
Most importantly, the Richoux business model has always been, 'if the wine is good, they will come'. And they do. It's all sold out the door or to local restaurants. Richoux is one of the few remaining domains that sells no wine before its time: vintages are sold according to their maturity, and not necessarily in chronological order.
Principles
Yields are kept to a maximum of 45 hectoliters per hectare. The harvest is a traditional affair with about 30 pickers involved in the manual harvest and related festivities.
Under Thierry's management, the domain has been seen to be innovative in the region. Total de-stemming, systematic sorting in the cuverie at the moment of the harvest, cellaring of the wines for 3 years before commercialization. The totality of the production has until now been sold at the cellars. 80% of the clientele are private individuals who arrive at the domain by car to taste and stock their cellars.
Thierry believes that color and body should not be obtained to the detriment of elegance. Long macerations do not necessarily bring anything extra to Pinot, he says. For this reason, Richoux wines are noted as round, fine, pure and fresh in the nose, and with a good aging potential. They have a fruity vivacity in the mouth. The wines are raised for three years — the first in stainless steel tanks, the second in oak barrels — and they are then bottled and left to develop another year before being put on sale.