TOP
Domaine Philippe Charmond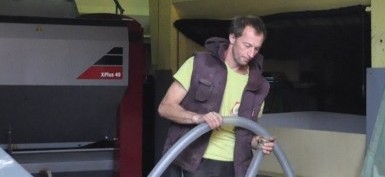 He makes four different wines at this point:
Pouilly-Fuisse 'La Roche'
Saint Veran
Macon-Vergisson
Macon-Verze
Domaine Philippe Charmond
The village of Vergisson, perched on the flanks of the Roche de Vergisson and with the rock of Solutre as a backdrop, is one of the prettiest villages in the Maconnais.It is also one of the rockiest. Therefore, there are as many styles of Chardonnay here as there are rock faces, expositions and elevations.
Philippe Charmond's uncle was a grape farmer, and in 1987 handed over his 16 acres of vines to Philippe. It was not until 2001 that the domain produced its first estate-bottled wines, and the main goal of the production since then has been to modernize the winery to be better able to control fermentation, storage and bottling. Much of this requires investment.
It is the Catch-22 of all small-production domains. But the difference between good and great wine is not only in the physical equipment of the winery. In fact, the most important element separating good and great is attention to detail, perfection.
So Philippe Charmond has been working, literally, from the ground up to make great wine. Plowing rather than herbicides. Sexual confusion rather than insecticides. Manual harvest. Whole cluster fermentation. And an important investment in temperature-controlled stainless steel tanks.