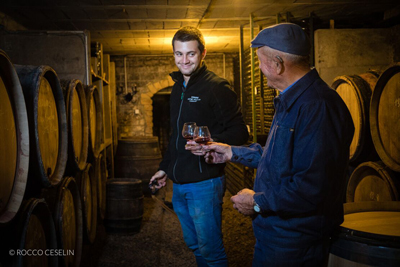 Appellations
Bourgogne Blanc Chardonnay 'Les Chavey'
Bourgogne 'Les Crenilles'
Bourgogne 'Les Lormes'
Bourgogne 'Les Petits Seurets'
Pommard 'Clos Beaudier'
Pommard 'Les Noizons'
Pommard 'La Combotte'
Pommard 'Les Perrieres'
Pommard 'La Levriere'
Pommard 1er Cru 'Charmots'
Beaune 'Siserpe'
Beaune 1er Cru 'Clos des Mouches'
Domaine Michel Arcelain
We can tell you things about Michel Arcelain that at first would not seem to have anything to do with wine. But then everything in Michel's life has something to do with wine.
He's tucked into his 80s, though you would swear he's 60-something. He's fit and lean like Ghandi, with big weathered hands, colossal exuberance and enormous strength of character. With 61 harvests under his belt, the man is larger than life.
Michel and Marie Madeleine Arcelain have been working their domain in Pommard together since they were married in 1963. Don't get the idea that Mado is the silent type; it's just that alongside Michel she can sometimes be overshadowed.
Seeing him in action in his winery puts the younger ones of us to shame. He leaps into storage bins and climbs the shelving units to grab a bottle for tasting. Once, when a friend wanted to buy some wine and pay with cash, he winked and shushed us to keep his secret, climbed up on a table, stepped across a storage unit, twisted his body to reach some secret cranny and withdrew a locked cash box that had maybe 20 euros in it. He completed the transaction, made change, and scampered back up to his secret hiding place.
Every bottle is hand corked and hand labeled, not always perfectly straight, but then that's the charm. And every carton is stored meticulously with hand-written vintage cards attached. He still has the same tractor he had in the 60s, still in impeccable working order. He can fix anything. He's even invented a device that is patent-pending that bolts onto his tractor to cultivate between the trunks of the vines without damaging them. Of course, his invention is mechanical; the big manufacturers, he says, all tried to do the same with hydraulics and failed.
He's a justly proud man. And often indignant. Doesn't believe in the wine guides, thinks the wine press are all on the take. And rightly believes that French bureaucracy and, worse, the EU have legislated the life out of his noble occupation.
But that does not keep him from continuing on as ever. His crew of Belgian pickers who have been coming for the harvest, some of them for 25 years and more, ask for their pay in wine. These people take time off work to participate. Michel has built rooms in his house for them, and a special kitchen so that the harvest is as it always has been, as it should be: hard work, conviviality and the celebration of a vintage.
Michel and Mado have two children, but neither ever showed interest in taking over the domain. Fifteen years ago we were all worried about what would become of their impeccable vineyards. Then, seemingly out of nowhere, came their grandson Pierre Andre. He's still in school, but it's the school winemakers' kids go to. And he goes with his grandparents to the fields and is learning, as Michel says he must, slowly. But you can see in all of their eyes the joy.
The domain is made up of parcels of vines inherited from both sides of the family and over a number of generations, as well as vineyards purchased by them over the years. These vineyards (with the exception of a small parcel planted in Chardonnay) are all Pinot Noir of the highest quality, known as Pinot Fin. The selection of quality vines was primordial for the domain, and they have been cultivated like a garden since 1949.
The soils are typical Pommard: rocky limestone and clay with a good dose of iron. Exposition is generally south/ south-west. Their's is a 'reasoned' agriculture, with no herbicides or chemical fertilizers, and with many traditional methods still employed. The earth is tilled in the Spring to inhibit surface roots and to facilitate absorption and drainage. Harvest is, of course, by hand, with a rigorous sorting before vinification.
Vinification
Vinification is traditional, with the harvest totally destemmed. Cold maceration for 48 hours; minimum levels of sulphur; vinification in open wooden vats during six days. Temperature control and cooling capacities are available if necessary. The wine is pulled off into stainless steel tanks at a density of 995. Aging takes place in 10% new oak in the rotation.
Michael Arcelain is one of the few Burgundian producers who still retains a portion of each harvest to allow it to age properly in his cellars. For this reason, he is able to present wines with up to 10 years bottle age, the ideal age for Burgundian Pinot Noir.