TOP
Domaine Marchand Freres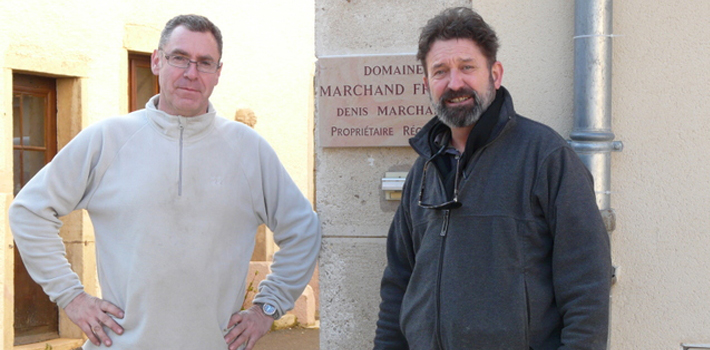 Appellations
Regional
Coteaux Bourguignons Blancs
Coteaux Bourguignons Rouge
Bourgogne Aligote
Bourgogne Pinot Noir
Bourgogne Vieilles Vignes
Village
Morey Saint Denis Vieilles Vignes
Gevrey Chambertin Vieilles Vignes
Chambolle Musigny Vieilles Vignes
Morey Saint Denis Blanc 'Le Tres Girard'
Gevrey Chambertin 'Cuvee Fanny'
Gevrey Chambertin 'Aux Etelois"
Premiers Cru
Morey Saint Denis 1er Cru 'Les Genavrieres'
Morey Saint Denis 1er Cru 'Les Millandes'
Morey Saint Denis 1er Cru 'Les Faconnieres'
Morey Saint Denis 1er Cru 'Clos des Ormes'
Gevrey Chambertin 1er Cru 'Les Combottes'
Chambolle Musigny 1er Cru 'Les Sentiers'
Grands Cru
Clos de la Roche
Charmes Chambertin
Griotte Chambertin
Domaine Marchand Freres
The Domaine Marchand Freres has been around since 1813 through seven generations, and for most of that time it was based in Morey-St. Denis. In 1983, however, the domain bought a winemaker's house in the very center of Gevrey-Chambertin, ostensibly for the beautiful working cellars underneath. But Gevrey gradually became the seat of the business, and today Denis Marchand lives in the beautifully restored house and receives guests in the cellars below.
The domain has small parcels in some very important vineyards in Chambolle-Musigny, Morey-Saint-Denis and Gevrey-Chambertin, including premier cru 'Les Sentiers' in Chambolle, 'Le Clos des Ormes' in Morey and 'Les Combottes' in Gevrey. They also have holdings in Grand Cru Clos de la Roche, Griottes-Chambertin and Charmes Chambertin. But production is tiny, 1000 cases here, a few hundred there, mere dozens in the Grands Crus. Marchand Freres is the quintessential Burgundy domain: small production, high quality.
Principles
The Domaine Marchand Freres does all those things that great producers do to make great wine. Essentially, no pain is spared in the pursuit of quality. Field work and harvest are manual, yields are kept low on mostly old vine stock. The harvest is de-stemmed and the second fermentation takes place in wood barrels of varying ages depending on the appellation and the vintage. Nothing is systematic; everything is thought out to react to the conditions of the year, the harvest and the cellar.
Vinification
The harvest is done by hand. This is a first indication of quality. Hand- picking is labor intensive, and less demanding growers will take short cuts when possible. Hand- picking the harvest means that trained pickers can sort good grapes from the damaged ones in the field. Handpicking also avoids unnecessary stems and leaves getting into the crush. The harvest is then completely de-stemmed, again to avoid green tannins from stems and vegetation. Red alcoholic fermentation is in cuve, while the whites see some barrel fermentation (especially the rare white Morey Saint Denis 'Le Tres Girard'). Malolactic fermentation in wood of varying ages depending on the wine. Very light filtration before bottling.