TOP
Domaine Gilles Bouton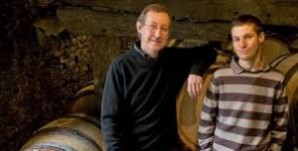 Appellations
White:
Bourgogne Aligote
Bourgogne Chardonnay
Saint Aubin 'Les Argillers'
Saint Aubin 1er Cru 'Les Murgers des Dents de Chien'
Saint Aubin 1er Cru 'En Remilly'
Saint Aubin 1er Cru 'Les Champlots'
Saint Aubin 1er Cru 'La Chateniere'
Chassagne-Montrachet 'Les Voillenots Dessous'
Puligny-Montrachet 'La Garenne'
Puligny-Montrachet 'Sous le Puits'
Meursault 1er Cru 'La Jeunelotte'
Red:
Saint Aubin 'En Creot'
Saint Aubin 1er Cru 'Les Champlots'
Chassagne-Montrachet 'Les Voillenots Dessus'
Domaine Gilles Bouton
We met Gilles Bouton back in the days of our hotel-barge Le Papillon when we were cruising the inland waterways in search of the real Burgundy. I remember the first taste of his Saint-Aubin 1er Cru 'en Remilly', thinking we had discovered the best deal in white Burgundy ever.
With several Saint Aubin premier cru vineyards touching on the Grand Cru Montrachets, the potential for finesse, complexity and subtlety is enormous in this production zone. So why is Saint Aubin still one of those appellations 'to discover'? Why is it not better know?
Well, there are three main blocks of premier cru vineyards in the valleys and steep hillsides that make up the village of Saint Aubin and the neighboring hamlet of Gamay (where the Domaine Bouton is located), and these three blocks deliver three different profiles of Saint Aubin.
The best zone, as you might have guessed, is on the south-facing slopes above the Montrachets. And it's here that we find all of Gilles Bouton's Saint Aubin 1er Cru. 'Les Murgers des Dents de Chien' is perhaps the most famous, but 'En Remilly', 'Les Champlots' et La Chateniere' are all in the hills sloping down toward the villages of Puligny and Chassagne. Noble vineyards all.
Gilles Bouton took the reins of his maternal grandfather's 4 hectare (9.6 acre) domain in 1977. The holding now totals 15 hectares (36 acres) and is spread out over four villages (Saint Aubin, Chassagne-Montrachet, Puligny-Montrachet and Meursault) all prime property in the so-called Golden Triangle of white Burgundy.
Gilles was joined by his son, Julien, at the end of 2008. The domain today makes on average 60,000 bottles per year. The Boutons sell most of their wine to private individuals either out-the-door at the domain or at numerous wine salons in France.
Principles
The Domaine Bouton pays close attention to soil conditions and strives to limit vine yields naturally. The soils under the rows are turned, and natural growth is allowed between the rows. They profess to what is known as the 'lutte raisonee', or reasonable reaction to grape growing problems. This generally means that chemical treatments are used less often and less aggressively than in conventional production.
Conscientiously practiced, lute raisonee can be very close to organic farming. There is, however, no system of checks and no set definitions. The Boutons know that no amount of winemaking skill, technology or special equipment can produce great wine without great fruit.
Vinification
White wine fermentations are natural, without the addition of cultured yeasts. The whites are raised on the lees for between 12 and 15 months in 20-30% new oak, with regular batonnage (stirring of the lees).
Red wine fermentations are natural, without the addition of cultured yeasts, in thero-regulated tanks. 15-20 days vatting time. They are then raised 15 and 18 months in 30% new oak.