TOP
Domaine Germain Pere et Fils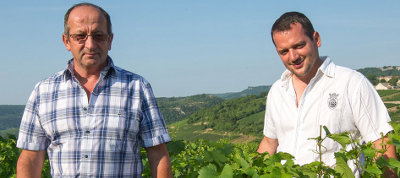 WINES
WHITE
SAINT ROMAIN
ALIGOTE
CREMANT DE BOURGOGNE
REDS
SAINT ROMAIN
SAINT ROMAIN 'SOUS LE CHATEAU'
SAINT ROMAIN 'LA PERRIERE'
POMMARD
BEAUNE .MONTAGNE SAINT DESIRE'
BEAUNE 1er CRU 'LES AIGROTS'
BEAUNE 1er CRU 'LES MONTREVENOTS'
BOURGOGNE HAUTES COTES DE BEAUNE
BOURGOGNE ROSE
Domaine Germain Pere et Fils
The Domaine Germain Père et Fils began in 1955 with vineyards situated uniquely in Saint Romain. At the base of its cliff, Saint Romain is a picturesque village, and was one of the earliest settlements and sanctuaries of the vine in Gallo-Roman Burgundy.
Today the Domaine Germain covers more than 33 acres, with wines in Saint Romain, Pommard and Beaune. Arnaud Germain, grandson of Bernard Germain, the domain's founder, joined his parents in 2009. The three of them together have developed both the vinicultural and the commercial side of their activities, with Germain wines winning awards in France and abroad.
Experience and modern techniques both in the vines and in the cellar combine to produce wines of excellent quality for reasonable prices. Their reasoned, curative approach to their vineyard work, manual weed control through plowing and green harvest to control yields are all key to this success.
Red wines are vinified in a traditional manner:
Harvesting by hand, manual sorting in the vineyard
Complete destemming
Vatting: pulp = aroma, pips = tannin, skin = colour
Maceration (12 to 16 days): extracting the aromas, colour and tannins
Cap-punching and pumping over: Blending the must
Alcoholic fermentation: the sugars turn into alcohol (action of the yeasts)
Devatting: pumping the juice
Transferring to barrels or vats: depending on the wine, the year, the wine we want to produce
Filtering
Bottling, washing, labelling, selling
For the white wines, the vinification steps are:
Harvesting by hand
The whole bunch is pressed
Vatting: for static clarification
Transferring to barrels or vats: depending on the wine, the year, the wine we want to produce
Blending
Tartaric stabilisation: chilling
Filtering
Bottling, washing, labelling, selling