TOP
Domaine-Felix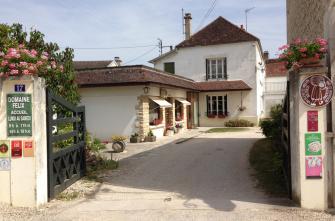 APPELLATIONS
BOURGOGNE ALIGOTE
BOURGOGNE COTES D'AUXERRE
CHABLIS
COTEAUX BOURGUIGNONS
SAINT-BRIS
Domaine Felix
When Herve Felix returned home to Saint-Bris le Vineux in 1987 to take over the family vineyards, he was but one of many who had done so since the family archives first showed a winemaker in the family in 1692. The family think it's very likely that the tradition goes back even further.
But this is not so unusual in this area of Burgundy known as the Auxerrois. This is the region of Chablis, and of Irancy, villages with a worldwide reputation for fine wine. But it was only in the past few generations that grapes became the mono-culture of the region. Although it was typical in the past for farming families to grow grapes. They grew other crops as well. Wheat and other grains, and here in the Auxerrois, famously, cherries.
So at the time that Herve came back to the farm, his parents were growing grapes, but selling them to the co-ops and negociants. Herve was a pioneer at the time, making his own wine and bottling it. Selling his wine directly to the public rather than passing through the negociants. And developing the family holdings from 11 ha to 31 today (about 75 acres).
Today they have holding in Chablis, which Herve says is easy to sell because of its reputation. But they also produce a regional appellation Bourgogne Cote d'Auxerre which is a great value in both Chardonnay and Pinot Noir.
But the story here is bigger than Herve and bigger than the Domaine Felix. The story of the appellation Saint-Bris is like no other in Burgundy (with the exception perhaps of appellation Bouzeron, which took a similar path).
In addition to Pinot Noir and Chardonnay (and the vestigial Cesar), Saint-Bris has traditionally grown Sauvignon Blanc as a major part of its production. It's proximity to Sancerre, 60 miles to the southwest, might be at the origin of the tradition, but Sauvignon de Saint-Bris has always been a feature in the Auxerrois wine production.
So much so that the local producers decided to take Sauvignon Blanc as their appellation grape. And in 2003, the appellation Saint-Bris was born. So now the label no longer says Sauvignon de Saint-Bris, but simply Saint-Bris. And the grape is Sauvignon.