TOP
Our Wine Team... Enjoying the Journey

Our wine team has grown. Meet Dennis Sherman, Stephen Lenahan, Ann Wupperman, Lilly Wicks-Lenehan and of course, Eleanor Garvin. Learn more about our wine team.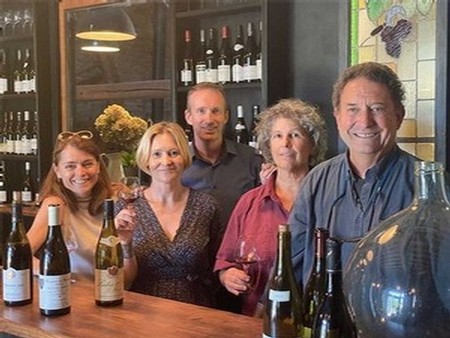 From right to left: Dennis, Ellie, Stephen, Lilly, Anne.
There is a perennial debate about Burgundy's complexities. Will you ever understand it, the meaning of terrior, the importance of Appellations versus Producers. The debate lives on and is alive and well here at the Domaine de Cromey, where we taste, buy and curate wine for burgundywine.com, for our cellars here in Cromey and Cromey Tasting Room.
Case in point. Dennis says that someone once told him that one will never figure out Burgundy. After 30+ years, he agrees but now thinks maybe that's the whole point. It is the journey that is important. Our wine team lives the journey every day and relishes the opportunities the journey brings.

Our Philosophy
For us, it's all about the winemakers, the producers. We say, buy the producer not the appellation. We seek out those who are passionate, dedicated and creative. We work with them over many vintages to assemble our collection of wines that present the very best of Insiders Burgundy, its many and varied appellations, climats and vintages. We are not sure we'll ever figure it out fully but we are enjoying the journey. We hope you join us.
Over the years our Wine Team led by Dennis, has met literally hundreds of winemakers and tasted thousands of wines. Not only does our team regularly visit with winemakers, the winemakers visit us at Domaine de Cromey to taste and discuss wine, often over lunch or dinner. Burgundywine.com has become a wine community united by passion for wine in its simplicity and complexity based on skills passed down through the generations. After all, wine has been made in these vineyards for 500 years and more.