August 8, 2022 | Appellations | Elden Selections
Volnay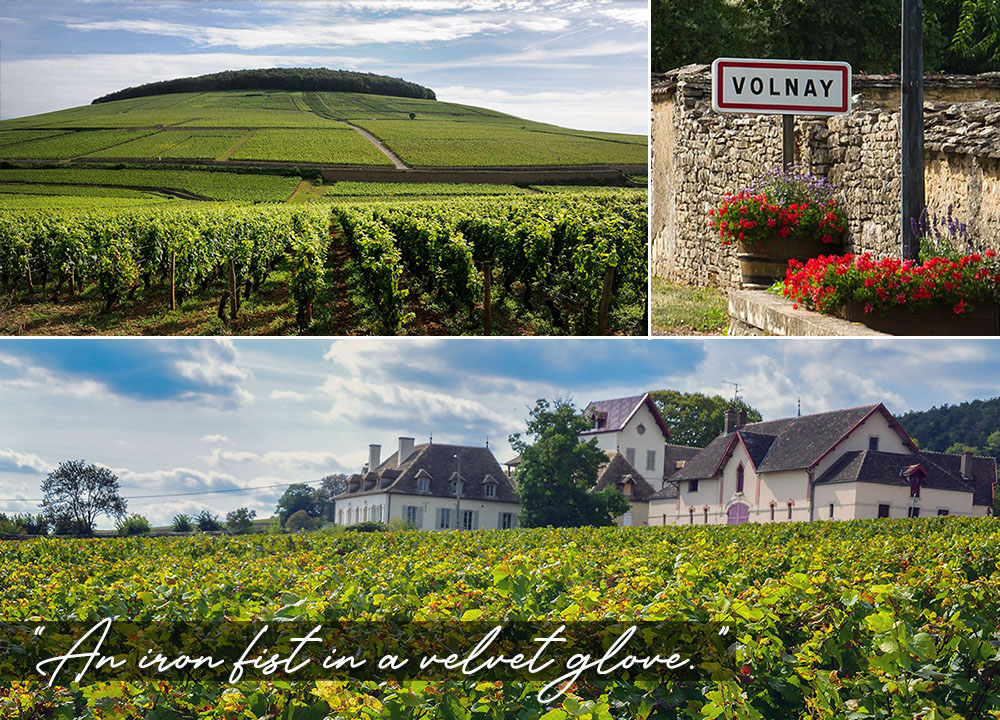 Volnay AOC situated in the Côte de Beaune, has a well deserved reputation for producing stunning Burgundy red wines.
But, what of the name, you may wonder? It is in fact derived from the God of water – Volen, and it was called Vollenay before its present name. A chateau was built here around 1250 – the handiwork of Hugues IV – and became something of a Duke's retreat, for it was here that they gathered to enjoy the good air and the even better wine. They're still enjoyed here to this day. Over the next 800 years or so, Volnay became hugely popular – Louis XI even bought vineyards here. To taste the wines from this terroir is to understand why everyone from the Knights of Malta to the Kings of France have raved about them.

Then, in 1937, it gained its very own appellation. And what an appellation it is. It sits atop the hill of Chaignot – steep, but perfect for the south-easterly facing vines. You could write a thesis on the soil composition alone. Whilst there are no Grand Cru plots here, there are some fabulous Premier Cru vineyards – 29 of them. This is small-producer country, and as such, Elden Selections offers Volnay wines from some of the very best of them. There's Marchand-Tawse's Volnay 1er Cru 'Les Fremiets' which has an intensity of ripe deep cherry and dark raspberry fruit, followed by a long, fine finish. Next up is Domaine Albert Boillot Volnay 'Les Petits Poisots'. A single-vineyard Volnay from the heart of the village, this wine is supple but dense, mouth-wateringly bright, with a long, lingering fruit-driven finish – and with great aging potential too. And finally, for those wishing to really push the boat out, there's a Hospices de Beaune, Volnay-Santenots 1er Cru, a deeply complex wine available in different vintages.
This Hospice de Beaune wine allows us to explain some Burgundian wine law that confuses many people. There are five climats of 'Santenots' . Red wines produced here can be classified as Volnay (village, premier cru or named vineyard) even though the vineyards are situated in the commune of Meursault.
We love to help you better understand Burgundy, which we realise can sometimes be confusing.
Returning to the terroir and the wines. Comparisons in qualities to the famous neighbouring village of Pommard is inevitable. Two villages so close yet with very different characters. Some also note similarities to Chambolle-Musigny situated within the Côte de Nuits. So Volnay is discussed within excellent company, however, we like to celebrate the uniqueness of the Burgundian villages. The overall character of Volnay is known as elegant, floral, violet, cherry gooseberry, spices, game and prune. A classic phrase that describes the village is "An iron fist in a velvet glove."
And we make sure we give thanks to old God of Water 'Volen', for his waters which have been so miraculously turned into wine.
Have you joined our Burgundy Wine Club yet? Become a member and enjoy unique wine experiences and gifts. And if you're interested in reading more great articles about the Burgundy region, then head over to our blog page, where you can read all about the wine women of Burgundy, wine the the circular economy, and some great 'How To' guides such as how to choose a wine glass to really let your wines sing.