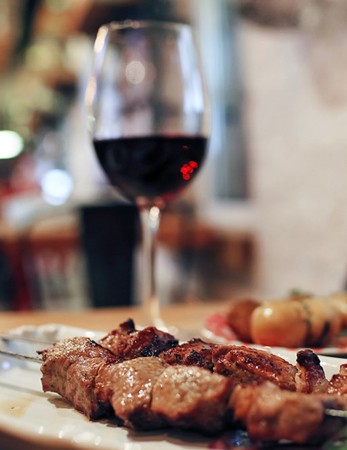 SUMMER IN BURGUNDY MIXED CASE
Overview
Here's a mixed case that will light up your summer BBQ and impress your friends and family!

Outstanding wines from outstanding winemakers in an outstanding vintage! You get 2 bottles of each, PLUS GROUND SHIPPING INCLUDED:
2 BOTTLES OF EACH RED:
Domaine Albert Boillet Volnay 'Les Petits Poisots' 2017
A single-vineyard Volnay from the heart of the village, this 'Petits Poisots' shows great Pinot fruit in its youth. Delicate Volnay fruit, floral (the typical violet notes of a Volnay), supple but dense, mouth-wateringly bright, with a long, lingering fruit-driven finish. This is a wine that is charming now, and which will open progressively over the next 5 years. Buy a case and drink a bottle every 6 months over 6 years and you will see a great Pinot unfold.
Domaine Jean Marechal Mercurey 1er Cru Champs Martin' 2017
Finesse from first nose to finish. Mineral, charcoal and fresh black cherry. Great balance, lovely acidity carries the fruit in an unbroken line through the mid-palate to an elegant full finish.
Paul-Henri Thillardon Chenas 'Les Carrieres' 2017
Paul-Henri Thillardon is, at a very young age, a masterful winemaker. It's got to be a gift, he has touch and perfect pitch, and his wines sing. Chenas is not far from Moulin-a-Vent, and for that can show much of the same muscle. Paul-Henri brings you this concentration, but knows where the balance point is for elegance. We call this 'grown-up wine'.
2 BOTTLES OF EACH WHITE:
Agnes Paquet Bourgogne Chardonnay 2017
Raised partly in steel with a small percentage of oak, this Chardonnay from strong limestone soils in the Hautes Cotes is crunchy, like biting in to the grape bunch, with fantastic freshness and good acidity on the finish. Mineral and pure.
Domaine Oudin Chablis 2017
Classic sweet river rock minerality and floral freshness, this is a meticulous perfectionists' Chablis 'tout-court' (as the locals call the 'village' appellation). This wine is at its peak now and will remain there for another 3-4 years. A lovely introduction to the Domaine Oudin style.
Domaine Germain Pere et Fils Saint Romain Blanc 2017
With admirable yields (45hl/ha), this Saint Romain white is taken seriously right from the start. Add 30% new oak and 8-9 months of aging and batonnage, and you get a very classy Chardonnay with the unique and superbly subtle Saint Romain minerality, full, rich and dense, with elegant floral notes, good acidity in its youthful charm. We found this wine on a restaurant list in Santenay and were so impressed we went the next day and became friends with the producers. An excellent bot
Continue Shopping