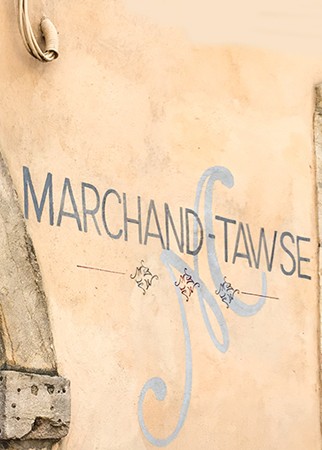 MARCHAND TAWSE MIXED CASE
Overview
The collaboration of Pascal Marchand with another Canadian, Moray Tawse of the Tawse Winery in Niagara, one of Canada's most recognized wineries, gave birth to the new Maison Marchand-Tawse in 2011. And at last Pascal Marchand has all the pieces of the puzzle lined up. This promises to be an extraordinary adventure!

The jewels of Marchand-Tawse include 12 bottles of Marchand-Tawse creme-de-la-creme PLUS GROUND SHIPPING INCLUDED
One Bottle each of these REDS:
Marchand-Tawse Bourgogne Pinot Noir 2017
From the first whiff you know there is substance here. The nose is so expressive and full of black fruit. There's great tannic structure, but well integrated. There's charm. fresh, soft and spicy. And what you find in the nose lingers to a long delicate finish.
Marchard Tawse Nuits St Georges 2016
This village Nuits St Georges is an assemblage of three parcels, 'Les Allots' and 'Aux Lavieres' on the northern side of town nearer to Vosne-Romanee; and 'Les Maladieres' on the south side of town. The wine is ruby and bright with the fresh berry of youth, but with a structure that shows Pascal Marchand's judicious use of oak with light, sweet toast. Charming now, but will age beautifully.
Marchand-Tawse Chambolle Musigny 2016
The wines of Chambolle-Musigny are situated somewhere between the strength of Bonnes-Mares and the finesse of Musigny. With these two great Grand Cru, and a couple dozen excellent 1er Cru vineyards, in the tiniest of villages, Chambolle is a focal point of what makes Burgundy Burgundy. We talk of silk and lace, feminine (the un-PC French always say). This village wine is an assemblage two parcels from the lower slopes 'Les Sordes' and 'Les Chardannes', and gives you that juicy black cherry black currant fruit, smoky and fine. And then the intensity starts to climb, slowly at first, then vigorously through to an energetic finish.
Marchand-Tawse Morey St Denis 1er Cru 'Clos des Ormes' 2016
Stellar bouquet of Christmas spices and glazed cherries. You think of a special occasion the moment you pull the cork. Full and balanced on the palate, generous (as the French like to say) with soft tannins that are still at work. This is a wine to save for a special occasion a few years on.
Marchand-Tawse Morey St Denis 1er Cru 'Millandes' 2016
Situated just below grand cru Clos de la Roche, this premier cru 'Millandes' shows nobility. Well-constructed and dense, with macerated fruit and black cherry in the bouquet, it is rich, round and powerful with a precise, almost strict, finish that is balanced and elegant.
Marchand-Tawse Volnay 1er Cru 'Les Fremiets' 2016
Rich purple, this 1er cru Fremiets delivers an intensity of ripe deep cherry and dark raspberry fruit. This supple intensity continues through on the palate and there remains a nice acidity to maintain an excellent balance through to a fine clean long finish.

Two bottles each of these WHITES:
Marchand-Tawse Puligny Montrachet 1er Cru 'Champs Gains' 2017
White flowers, orange blossom, lemon drops and honey. That's a classic Puligny-Montrachet profile. And here it comes with a soft touch and a judicious use of oak. Elegant, mineral as only Puligny Montrachet can be. A premier cru worth its appellation.
Marchand-Tawse Bourgogne Blanc 2017
From parcels around Savigny-les Beaune, Pernand-Vergelesses and the Hautes Cotes de Nuits, this is a cuvee designed to show Pascal Marchand's vision of Chardonnay. Floral, with that Corton Mountain minerality, great acidity that makes it mouth-wateringly juicy and open. It's ready. A lovely image of white from the middle reaches of the Cote d'Or.
Marchand-Tawse Savigny les Beaune 1er Cru 'Les Vergelesses' Blanc 2016
Savigny les Beaune 1er Cru 'Les Vergelesses' sits, you guessed it, in the northeast part of Savigny where the valley butts up to the Pernand-Vergelesses premier cru vineyard of the same name. It's a bit confusing, especially when you add in another premier cru called 'Ile des Vergelesses which, you guessed it again, sits in the middle of the other two. Steep, south-facing limestone soil with a very chalky make up yields wine of complex minerality and freshness. 25% new oak lets the fruit and flowers sing.
Continue Shopping