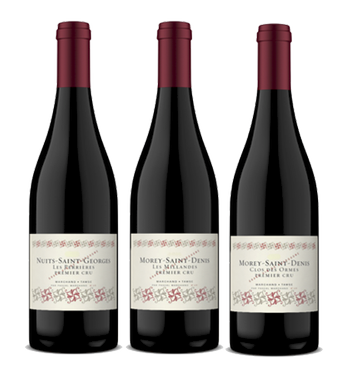 MARCHAND TAWSE 2011 MIXED CASE
Overview
Your perfect everyday Burgundy awaits!

A great Burgundy vintage, ripe and ready to drink, from one of the truly world-class producers working today. Bio-dynamic, cutting edge and edgy, these wines are the face of modern Burgundy.
4 Bottles of each​... Ground Shipping Included
Marchand-Tawse Morey St Denis 1er Cru 'Clos des Ormes' 2011
Stellar bouquet of Christmas spices and glazed cherries. You think of a special occasion the moment you pull the cork. Full and balanced on the palate, generous (as the French like to say) with soft tannins that are still at work. This is a wine to save for a special occasion a few years on.
Marchand-Tawse Morey St Denis 1er Cru 'Millandes' 2011
Situated just below grand cru Clos de la Roche, this premier cru 'Millandes' shows nobility. Well-constructed and dense, with macerated fruit and black cherry in the bouquet, it is rich, round and powerful with a precise, almost strict, finish that is balanced and elegant.
Marchand-Tawse Nuits St Georges 1er Cru 'Perrieres' 2011
Any vineyard named 'Perrieres' produces a light and delicate style of its appellation. The name implies 'gravel', 'light soil'. And that's what we have here: an elegant, delicate Nuits St. Georges 1er Cru . Juicy, with good high acidity, orange that will be cherry. With 2011 charm and finesse, and mineral tension, this is a wine for now, but which will be one of those great surprises not so far down the road.
Continue Shopping