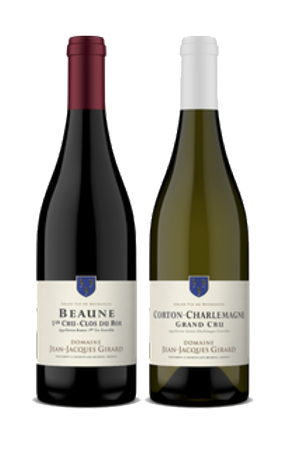 BURGUNDY FIT FOR A KING 6 BOTTLES
Overview
Fit for a King! That's no exaggeration! Here are two noble Burgundies from Jean Jacques Girard, one white, one red, from vineyards that were originally the property of kings and emperors.
And to top that off, both are from the perfect 2016 vintage. Perfect maturity in both fruit and phenols, a rarity. A mixed 6 bottle mixed case, 3 bottles of each plus Ground Shipping included:
Corton-Charlemagne 2016
Every Corton-Charlemagne is different. We can think of no other Grand Cru, white or red, that has such range and depth. You understand immediately once you have stood at the summit of the Corton mountain: the sweep of exposition, the tumble of the slope, the changing color of the soil. It's all the same appellation, but each wine is distinct. Another classic example of having to know the winemaker.
Beaune 1er Cru 'Clos du Roi' 2016
Beaune 1er Cru 'Clos du Roi' is, as the name suggests, one of the best parcels in the hills above Beaune. Beaunes can have the spice of Savigny, so the style plays well into Jean-Jacques Girard's hands, but the Clos du Roi has the oomph of the Corton mountain. Red fruit and spice, great building intensity, round, fleshy and persistent, It's a fist in a velvet glove.
Continue Shopping