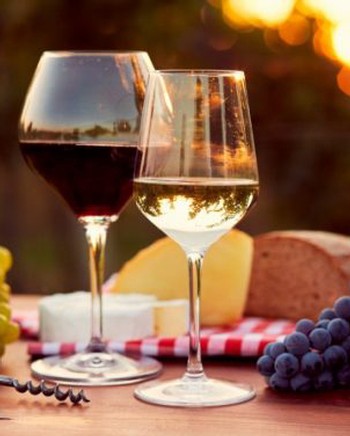 $275 INTRODUCTION TO BURGUNDY MIXED CASE
Overview
At Elden Selections, we don't do ratings!
We believe that the only way you will ever know if you like a wine is to taste it. So here is a way to get to know Elden Selections. We propose a 12 bottle mixed case that represents our Burgundy palate.
Wines that become Elden Selections have been chosen because we like them. These are some of our favorites. Great Burgundy, but affordable. So that you can open them just to see if you like them too.
And if you like these, we guarantee that you will like any wine that you ever receive from us. Promise. Here's what you get:
WHITE WINES
Jean Dauvissat Pere et Fils Chablis 2016
Chalky Chablis minerality make you immediately think that this village Chablis comes from vines on the left bank of the Serein. Many of the Dauvissat holdings are there, near Milly, the hamlet at the foot of the Cote de Lechet. Here, deep berry fruit and lemon drop (orange, really) acidity produce a big, concentrated wine which is wide open on the palate, with a long rich finish driven on by that minerality. There's a new kid on the block!
Domaine Oudin Chablis 2017
Classic sweet river rock minerality and floral freshness, this is a meticulous perfectionists' Chablis 'tout-court' (as the locals call the 'village' appellation). This wine is at its peak now and will remain there for another 3-4 years. A lovely introduction to the Domaine Oudin style.
Chateau Cary Potet Montagny 1er Cru 'Les Jardins' 2016
From the southern reaches of the Cote Chalonnaise, the wines of Montagny are among the best value in White Burgundy. With a unique and dusty minerality that many compare to a suave left-bank Chablis, the wines also profit from their southern position, so ripeness and maturity yield seductive and charming Chardonnay. This premier cru 'Les Jardins' is rich and grassy, with flinty minerality in the nose, and smoky minerality on the fruit. Lemon drop acidity and a touch of fat maturity are carried through the mid-palate onto a long mineral finish.
Domaine Borgeot Bourgogne Blanc 'Clos de la Carbonade' 2017
This single-vineyard Bourgogne 'Clos de la Carbonade' is wholly owned by the Borgeots. And the wine they make there is the greatest surprise on our list. It's a small parcel, located in the village of Bouzeron, the northernmost village of the Cote Chalonnaise. But don't be fooled by its modest pedigree: the 'Clos de la Carbonade' has something special about it. And year after year we see remarkable wines that far outshine appellations much grander than Bourgogne. The Borgeot's can't explain it...yet. But there is a geological study underway to see what makes this parcel tick.
Château de Vergisson Saint Veran 2017
Bottled in March 2018, this wine is pure pleasure. Raised in stainless steel tanks, it's pure, open, fresh, with a noseful of rich, ripe fruit that snaps with mineralty, and a mouthful of freshness that's like biting into the grape bunch. Charming every-day drinking Burgundy!
Julien Cruchandeau Aligote 'Le Village
From 50 year old vines in the hills above Nuits St Georges, this Aligote is fresh and spicy with green apple acidity. Bright, crisp almost crunchy fruit and a deep, floral lingering finish carried out long by the limestone minerality.
RED WINES

Domaine Marchand Freres Bourgogne Rouge 2017
Burgundian winemakers who have been at it for generations often produce AOC Bourgogne that reminds you of the village wine where the domain is based. It makes sense, really: older domains are likely to have their vineyards circled close to home. This Domaine Marchand Freres Bourgogne fools you at first. We tend now to think of them as being based in Gevrey-Chambertin. But that is fairly recent. The domain's roots are in Morey-Saint Denis. And when you taste this Bourgogne, that's what you taste. A little Morey Saint Denis. Remarkable.
Jean-Jacques Girard Bourgogne Rouge 2015
Jean-Jacques Girard's family has been making wine in the Savigny-les Beaune valley for 500 years, so it's not surprising to find that his regional appellation Bourgogne Rouge drinks like a little Savigny. Blackcurrant freshness, a touch of earth subsoil, a supple, easy structure and bull's-eye line on through the whole from the attack to the finish.
Julien Cruchandeau Hautes Cotes de Nuits 'Les Cabottes' 2018
Tank raised. 12.5% alcohol. Vineyard in transition: half of it is 60 years old; the other half a new plantation 6 years old. The two parts are fermented separately then assembled in to one cuvee. 2018 gave him lovely phenolic maturity, so he did a slow cold maceration. The result is enormous fruit and a wine accessible now. Beautiful Pinot Noir!
Michel Arcelain Bourgogne 2015
This Bourgogne will stop you in your tracks. Like so many regional appellation wines from small, proud production domains, the grapes for this wine come from a vineyard in the village where the producer lives and work. In this case…it's Pommard. This is no big-volume blend Bourgogne like you get from the negociant houses. No, you'll swear that this is a little Pommard. And that's how it should be!
Domaine Borgeot Bourgogne Rouge 2017
Domaine Borgeot Bourgogne Rouge is one wine that is always in our cellar. In fact, it's our 'house red'! This is one of the paradigms of what we call 'everyday drinking Burgundy'. Classic youthful Burgundy Pinot Noir with blackberries and strawberries and that earthiness that keeps you coming back. It is as we claim: you can drink Burgundy every day. This one should be in your cellar too. Pull it out, guilt free and often!
Domaine Albert Boillot Bourgogne Pinot Noir
Pale ruby in color, this is an elegant, delicate expression of Pinot Noir, full of red berry fruit and silky tannins. The limestone adds complexity in the form of fine, chalky tannins.
Continue Shopping