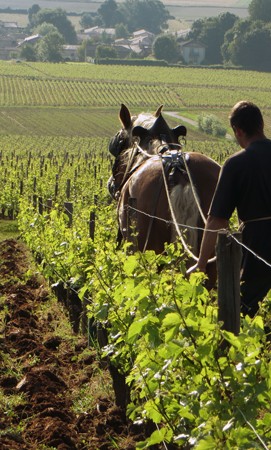 EARTH DAY MIXED CASE
Overview
Biodynamic is similar to organic farming in that both take place without synthetic chemicals, but biodynamic farming incorporates ideas about a vineyard as an entire ecosystem, and also takes into account things such as astrological influences and lunar cycles. A biodynamic wine means that the grapes are farmed biodynamically, and that the winemaker did not make the wine with any common manipulations such as yeast additions or acidity adjustments. A wine "made from biodynamic grapes" means that a vintner used biodynamically grown grapes, but followed a less strict list of rules in winemaking.
This is a lovely mixed selection of 6 Reds and 6 Whites produced from Bio dynamic producers in Burgundy. GROUND SHIPPING INCLUDED.
2 EACH OF THE RED BIODYNAMIC WINES:
Paul-Henri Thillardon Chenas 'Les Carrieres' 2017
Paul-Henri Thillardon is, at a very young age, a masterful winemaker. It's got to be a gift, he has touch and perfect pitch, and his wines sing. Chenas is not far from Moulin-a-Vent, and for that can show much of the same muscle. Paul-Henri brings you this concentration, but knows where the balance point is for elegance. We call this 'grown-up wine'.
Richard Rottiers Beaujolais Villages 2018
Classic Beaujolais village, fruity and spicy...from 60 year old vines. Great depth and body. This is what the Beaujolais renaissance is all about!
Jean Claude Rateau Beaune 'Prevoles 2017
Floral, round and structures, dense and full with great tension and a long long finish on the fruit.
2 EACH OF THE WHITE BIODYNAMIC WINES:
Marchand-Tawse Savigny les Beaune 1er Cru 'Les Vergelesses' Blanc 2015
Savigny les Beaune 1er Cru 'Les Vergelesses' sits, you guessed it, in the northeast part of Savigny where the valley butts up to the Pernand-Vergelesses premier cru vineyard of the same name. It's a bit confusing, especially when you add in another premier cru called 'Ile des Vergelesses which, you guessed it again, sits in the middle of the other two. Steep, south-facing limestone soil with a very chalky make up yields wine of complex minerality and freshness. 25% new oak lets the fruit and flowers sing.
Capitain Gagnerot Saint Romain 'Au Bas de Poillange' 2018
This parcel of Saint Romain 'Au Bas de Poillange' is relatively new to the Maison Capitain, and it has become the pet project of Patrice's son, Pierre-Francois, who works it with strict organic methods. What's most interesting is that the Capitains know well the minerality of the Corton Mountain. But this Saint Romain is something all its own. Floral with racy stony freshness. It's a tiny production of about 3000 bottles a year.
Domaine Jean Fery Bourgogne 'Les Montatines' Blanc 2017
Pure deep fruit, rounded with just enough oak to make your mouth water. Floral and citric, but mouth-filling and long.
Continue Shopping