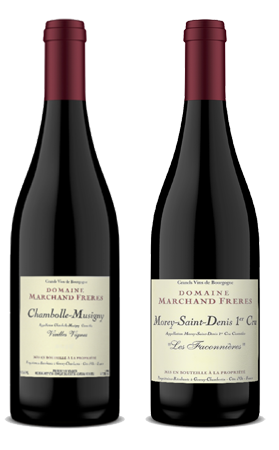 DOMAINE FRERES 2016 MIXED CASE
Overview
Denis Marchand does all those things that great producers do to make great wine. No pain is spared in the pursuit of quality.
Yet he prefers to fly below the radar. The quantities are minuscule. But the insiders know where he lives!
Include 6 bottles each plus Ground Shipping included:
Morey Saint Denis 1er Cru 'Les Faconnieres' 2016
On well-drained gravelly soil just below Grand Cru Clos de la Roche and running the length of premier cru 'Les Millandes' just to the south, the premier cru 'Faconnieres' is one of the best-situated of the many great Morey-Saint-Denis premiers crus. Add to that 50 year old vines and vinification worthy of a Grand Cru, for a minuscule production of just 1300 bottles, and there you have Burgundy at its best.

Chambolle-Musigny 'Vieilles Vignes' 2016
The very politically-incorrect French describe Chambolle-Musigny as the most 'feminine' of the Corte de Nuits reds. It is violets, like in Volnay, but richer and more complex, perhaps. The term often used is 'lacy'. The old vines give it character, personality even, and a structure solid enough to age. But don't miss the charm of youth either.
Continue Shopping