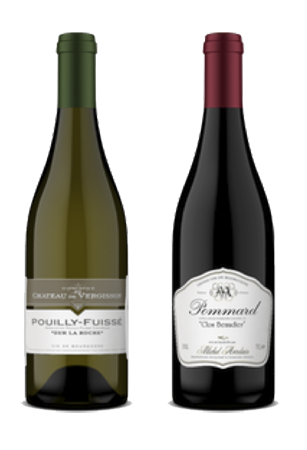 $100 BURGUNDY MIXED DUET
Overview
Lovely gift set includes one bottle of each:
Château de Vergisson Pouilly-Fuisse 'Sur la Roche' 2016
These are vines from Pierre's end of the valley, on the slopes of the Vergisson outcrop. The vines, almost 100 years old, were planted by Pierre's great-grandfather. And old vines on a parcel like 'Sur la Roche' gives a depth and concentration that is hard to believe. Elegance, tension, freshness, notes of oysters and the sea, iodine. And of course the minerality carries the finish on forever. Outstanding.
Domaine Michel Arcelain Pommard 'Clos Beaudier' 2012
The Arcelain Pommard 'Clos Beaudier' is a tiny production, a single-vineyard cuvee that Michel always sets apart from his other Pommards, almost as if it were a premier cru (and I think he sees it that way!). The greatest fault in the 2010s is that they are so charming so early; they risk being drunk up before they really have a chance to show what all the fuss is about. Translucent ruby, earthy bright, pure and powerful, with elegant notes of orange and spice, and complex length. This is a wine to buy by the case: drink a bottle a year over the next 12 years and watch a real Burgundy unfold.
Continue Shopping