Turnip Soup with a Mirepoix of Snails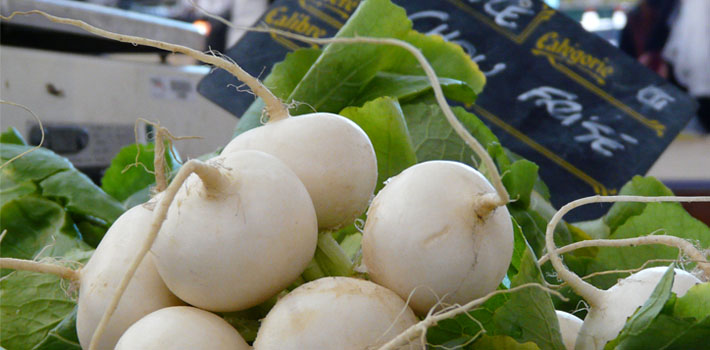 Velouté de navets à la Mirepoix D'Escargots
This mirepoix (a very fine dice of mixed vegetables and herbs), made mostly of carrots, cabbage and mushroom, gives an earthy quality to this soup, which heightens the mineral, gravely flavors of the snails. This is, in fact, a great vehicle for appreciating the snail.
Be careful when purchasing snails. There are really only two species worth looking for: the Burgundy snail (called helix pomatia) and the petit gris from Provence (called helix aspersa). These taxonomical names should be clearly marked on the label. Almost anything else is likely to be an Asian slug, and not a snail at all. Look for medium- ('moyen') or small- ('petit') sized snails for these recipes.
For the soup: Heat the chicken stock and add the peeled and coarsely chopped turnips. Season with salt, and cook covered over a low heat for 20-25 minutes. Puree the soup in a processor or with a hand-held blender; add the cream, season with the salt, white pepper and nutmeg to taste.
While the soup is cooking, make the mirepoix. Slice the carrots thinly lengthwise, stack and cut into strips, then cut crosswise into a fine dice. Slice the savoy cabbage thinly and then slice crosswise into a fine dice. Slice the mushrooms, and then chop them finely. In one tablespoon of the butter, sauté the mushrooms until all their liquid has evaporated. Transfer the mushrooms to a bowl and reserve. In the same pan melt the remaining butter and add the finely diced carrot, cabbage and garlic. Season with salt, cover and cook over a low fire until soft.
Meanwhile, in a separate pan, heat the escargots with their liquid and enough water to cover just until they come to a simmer. Strain the snails, rinse briefly under cool water and, if they are large, coarsely chop them. Add the snails to the mirepoix with the mushroom mixture and remaining cream. Let this cook covered over low heat for 5 minutes. Reheat the soup. Taste the mirepoix for seasoning and add the herbs. Ladle the hot soup into warm shallow bowls and spoon the mirepoix into the center of each bowl. Serve immediately.
Serves: 10
For the turnip soup:
2 ½ pounds fresh small turnips
6 cups chicken stock
¼ cup crème fraîche or heavy cream
Fine sea salt
Freshly ground white pepper
A grating of nutmeg
For the mirepoix:
2 carrots peeled
¼ Savoy cabbage (the curly leaf type)
8 firm mushrooms
4 tablespoons of unsalted butter
3 cloves garlic minced
5 dozen small Burgundy snails ('helix pomatia')
2 tablespoons crème fraîche or heavy cream
3 tablespoons minced chives or chervil, or both