Squid and Zucchini Gratin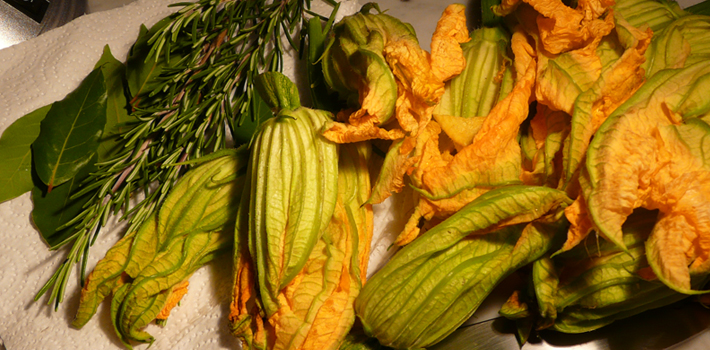 Zucchini is in at the moment. And in a couple of weeks we'll have more than we can handle. So we are always looking for an interesting way to bring the freshness of the garden to a prepared dish.
This one is quick to assemble and straightforward to cook, and one of those dishes that lets you appreciate the ingredients in their simplicity.
Look for good-size squid for this preparation. You need some thickness in the body to give the dish its texture. You could use cuttlefish, but not octopus, as it is too dense.
Squid and Zucchini Gratin
Serves 6
When ready to assemble and bake, preheat the oven to 400°F/200°C.

To clean the squid: hold the squid's body in one hand and the head in the other and gently pull the head away from the body, taking the milky white intestines with it. Remove the tentacles from the head by cutting them off just in front of the eyes. Discard the head. Squeeze out the beak-like mouth from the center of the tentacles and discard. Reach into the body and pull out the clear, plastic-like quill. Pull off the fins from either side of the body pouch. Pull away the brown, semi transparent skin from both the body and fins. Wash out the pouch and rinse the tentacles and fins. Pat dry with paper towel.
Cut the squid into 2-inch long by ½ -inch wide pieces. Do the same with the zucchini, you are looking for similar sized pieces of both ingredients.Lightly oil the baking dish. Put the squid and zucchini into the dish and toss with the onion. Season with salt and pepper.
In another small bowl mix the parsley, garlic, bread crumbs, cheese and lemon zest with a bit more salt and pepper and mix well with the olive oil. Sprinkle ? of this mixture over the zucchini and fish and toss well. Then sprinkle the remaining ? of the mixture over the top and pour the water gently into the side of the dish.
Bake in the upper third of the hot oven until lightly browned, about 25 -30 minutes. Serve hot with lemon wedges.
Wine recommendation: Capitain St. Romain white
Saint Romain whites have a minerality all their own. This sub-zone, sitting so close to Meursault you can see the church spire, has more in common with Chablis than it does the classic white Burgundy. Stony and floral with citric notes, it's a perfect wine for delicate seafood, and should marry well here. And it's a Captain!
1½ pounds (700 gr) cleaned squid or 2 pounds un-cleaned
1½ pounds (700 gr) small zucchini
2 medium white or red onions peeled and thinly sliced
1 small bunch flat leafed parsley washed and chopped
4 garlic cloves peeled and minced
½ cup (50 gr) plain bread crumbs
? cup (50 gr) grated parmesan cheese
fine zest of 1 organic lemon
1½ teaspoons of fine sea salt
freshly ground black pepper
4 tablespoons (60 ml) extra virgin olive oil
¾ cup (180 ml) water