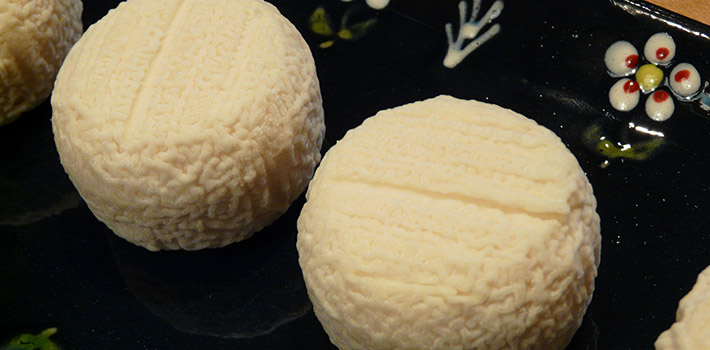 Crepinettes D'Agneau au Fromage de Chevre
These little 'packets' are pieces of lamb tenderloin wrapped in phyllo pastry. They can be assembled ahead of time and roasted for 20 minutes just before serving. I serve them very simply, on a green salad with lightly toasted almonds.
The goats' cheese that I use in this recipe are little Crottin de Chavignol, from the Loire valley near Sancerre. They are shaped in small rounds, about 2-inches across and an inch tall. You don't want them too fresh nor too old and shrunken. They should still be moist and creamy, but hold together when baked.
Crepinettes D'Agneau au Fromage de Chevre
Serves 6
In a heavy saute pan, sear the lamb noisettes for a minute on each side over a brisk heat in a little oil and butter. Let them cool. Season the noisettes with salt and pepper then smear each with mustard. Thaw the phyllo according to packet directions and brush one phyllo sheet with melted butter (keep the remaining sheets well covered so they don't dry out) and cut into a strip approximately 6-inches wide. Place a seared noisette on the end of one strip. Top the lamb with a slice of goat cheese, top this with a prune or fig half and season with salt and pepper, and fold as neatly as possible, making a package. Do all the noisettes this way and reserve on a baking tray.
Preheat the oven to 375° F.
Roast the packets in the preheated oven for 20 minutes until golden brown.
Make the vinaigrette by dissolving a teaspoon of sea salt in the sherry vinegar. Add the sliced shallots and let them macerate in the vinegar to soften their flavor while the lamb is cooking.
Just before serving whisk in the oil and black pepper into the shallot mixture. Toss with the greens and almonds. Divide the salad among six plates. Top with two lamb chops per person and serve.
WINE
This is an earthy dish, but light at the same time. So we look for a wine keeping with that profile: a Pinot from the fringes. A Santenay maybe, with the rustic edge you're looking for. Or maybe a village Nuits-St. Georges, slightly 'animal', gutsy, but fruity.
12 loin-cut lamb noisettes cut one-inch thick
Fine seal salt
Freshly ground black pepper
2 tablespoons Dijon mustard
6 small goat cheese rounds, sliced
12 large pitted prunes or six small fresh figs cut in two
6 sheets phyllo dough (found in the frozen section of most supermarkets)
6 small goat cheese rounds, sliced in half to make 12 slices
4 tablespoons melted unsalted butter
For the salad:
1 large bowl mixed salad greens
½ cup skinned lightly toasted almonds
2 shallots thinly sliced
3 teaspoons sherry vinegar
6 tablespoons canola oil
Fine sea salt
Freshly ground black pepper