Mussel Bouillon with Saffron, Chervil and a Crush of Butternut Squash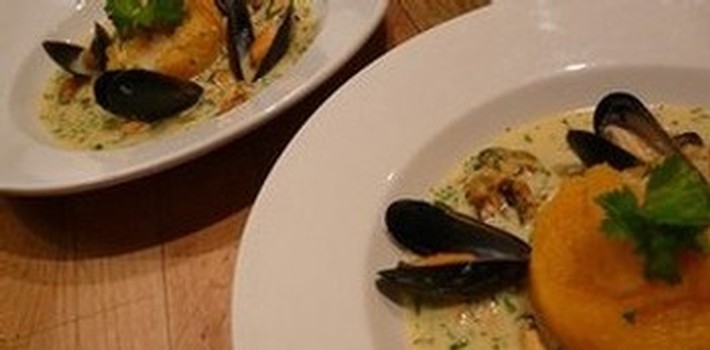 Bouillon de Moules Safraneau Cerfeuil et Potimarron
Here in France we're lucky to have the small, sweet bouchot mussels from the Normandy coast. Highly-prized and plentiful, no other Atlantic mussel is quite so fine.
Chervil is used extensively in Burgundian cuisine: as much or more than parsley. It grows well in cool climates. A few chopped sprigs brightens up a finished dish. In this bouillon, it's the chervil that binds the flavors of the mussels and the squash.
Potimarron is not exactly a pumpkin, at least not the Halloween type. It's more a smallish gourd with firm texture and a spicy, slightly "chestnutty" flavour. Butternut squash is a good substitute.
Mussels should be alive when you cook them. Storing them in a plastic bag will kill them. Rather, put them in a metal bowl, cover with a damp paper towel and refrigerate them until you are ready to soak, clean and cook them. Discard any mussels that float and do not close up when you soak them.
Mussel Bouillon
Put the shallots and white wine in a large saucepan. Bring to a boil and after 3 minutes or so add the mussels. Cover and steam the mussels, stirring once or twice until they have opened. Remove them with a slotted spoon to a large bowl. Pour the liquid into a tall glass measuring cup and let any grit settle. Pour the clear liquid carefully back into the pan. Add the saffron to the mussel juice and reduce over medium heat for 5 minutes. Add the cream and chervil. Mussels can be salty, so season to taste. Remove from heat.
Pick three-quarters the mussels from the shells and add them to the bouillon, reserving the rest in the shell for garnish.
Butternut Squash Crush
In a large sauté pan with a tight-fitting lid, put the squash cubes in a half cup of water with a small pinch of salt; simmer, tightly covered, for 20-30 minutes. Uncover and stir from time to time until the squash is soft. You may have to add more water to keep the squash from sticking. When soft and dry, add the butter and crush with a fork. Season to taste with salt, pepper and nutmeg. Keep warm, or reheat gently at serving time.
To serve: Have ready six large warm shallow soup bowls. Using a round ring mold, mound a couple of tablespoons of butternut squash crush in the centre of each bowl. Ladle the warm mussel bouillon gently around the squash, and garnish with the reserved mussels in the shell and a few sprigs of chervil.
Wine Pairing
This Pouilly Fuisse is called 'Les Chataigners', meaning the chestnut trees. More than coincidence that we choose it to go with our 'chestnutty' potimarron!