Garden Vegetable Ragoût with Garlic & Crispy Ham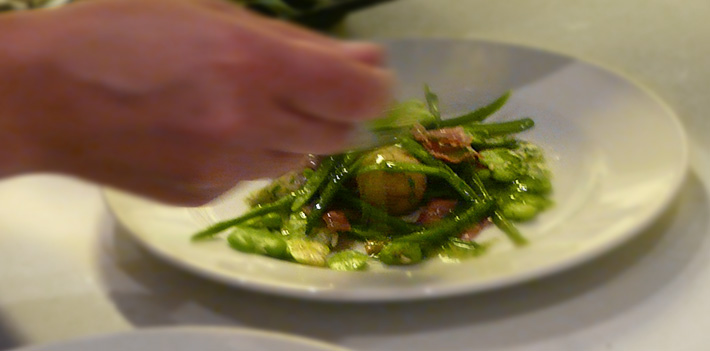 RAGOUT DE LEGUMES A L'AIL ET AU JAMBON CROUSTILLANT
It is very important with this recipe that you use only the freshest garden vegetables. I make this salad here in June when new potatoes, green beans, artichokes and fresh spinach are all grown locally and are on my favorite vegetable stalls in local markets. This spinach sauce is easy to make and brings all the separate flavors of the vegetables together. The fried sliced garlic adds depth and the crispy ham crunch.
Fill a large bowl with water and squeeze the lemon juice into it. Clean each artichoke. Cut two thirds of the top off with a sharp knife. Pull off the outer leaves and trim, leaving the pale yellow leaves and heart. Scrape out the choke with a spoon. Trim the base and peel the stem, then slice in half or quarters depending on their size. Add to the lemon water.
In a large saucepan of boiling salted water, blanch the spinach until just wilted. Remove with a slotted spoon. Let cool slightly and squeeze with your hands to remove excess water. Have ready a fairly large baking tray placed in a warm but off oven.
Add the potatoes to the boiling water and cook until tender, about 15 minutes. Remove with a slotted spoon and place on baking tray. Cover with foil and place in the warm oven. Add the artichoke halves to the boiling water and cook for 8 minutes until tender. Remove with the slotted spoon and add to the potatoes.
Add the green beans to the water and cook for 4 minutes then add the celery and fava beans. Cook for and additional three minutes. Ladle out 1½ cups of the cooking water and reserve. Drain the remaining vegetables and add to the tray. Cover and keep warm.
In a non-stick sauté pan, lightly fry the ham slices until fairly crisp. Remove to paper towel and reserve. In the same pan, heat 2 tablespoons of the olive oil and in it fry the garlic slices until they turn lightly golden, stirring with a wooden spoon. Don't let them brown or they will be bitter. Pour this oil over the vegetables.
With a hand-held immersion blender puree the spinach with the reserved vegetable cooking water. Heat the remaining oil in the sauté pan and add the flour. Stir and cook the flour for a minute or two and then whisk in the spinach sauce. Cook for 3 minutes and season to taste with salt and pepper. Have ready six warm plates. Season and gently toss the vegetables. Divide evenly among the plates and drizzle over the spinach sauce. Break the ham into large pieces over the vegetables and serve.
Serves: 6
Ingredients

1 lemon
6 small violet artichokes or 3 large
2 cups young fresh spinach leaves
1 pound fingerling potatoes cleaned with skins left on
2 handfuls very slender green beans
2 stalks celery cut into 1 inch lengths
1 cup shelled fava or lima beans or fresh peas
4 thin slices proscuitto-type cured ham
3 garlic cloves thinly sliced
6 tablespoons extra virgin olive oil
1 tablespoons flour
Fine sea salt
Freshly ground black pepper