Crab with Wild Rice and Sun Dried Tomatoes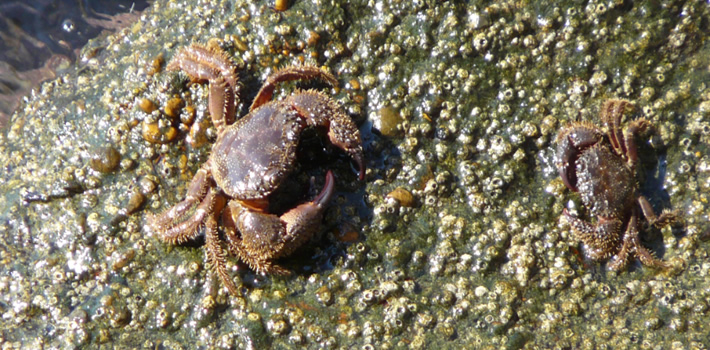 Tourteau au Riz Sauvage et Tomates Sechées
There's one thing that still makes us home-sick after all these years. Crabs. We grew up on the Chesapeake Bay, and summer was crabs. We caught them by the bushel. Chicken-neckin', we called it. So we have a natural soft spot for this combination of warm crabmeat, wild rice and sun-dried tomatoes, set off with a pinch of espelette pepper.
Heat the olive oil in a non-stick pan over medium heat. Add the rice and toss to coat. Cover the rice with 2 cups of water. Bring to a boil, reduce to a simmer and cover and cook over low heat until the rice is tender.
Put the two tablespoons of butter in a sauté pan over medium heat. When it starts to foam add the tomatoes and shallots and warm through. Add the crabmeat and lemon zest. Mix in the cooked rice gently and season with salt to taste. Cover and keep warm. In a small sauce pan heat the cream with the stock, bringing it to a bare simmer. Add the soy sauce and butter, and whisk until foamy.
Serve the crab mixture in warmed bowls with a few tablespoons of sauce around in each bowl and sprinkle over the espelette pepper. Serve warm.
Wine pairing
There is something so delicate about crab preparations. And we can think of no better Burgundy wine to let it sing than a well-made Chassagne-Montrachet chardonnay. The Borgeot old-vine Chassagne is always one of our favorites. And it's a great way for us to combine our old home with our new!
Serves: 6
Ingredients

¾ cup wild rice
2 tablespoons olive oil
2 tablespoons unsalted butter
8 sun dried tomatoes diced
2 shallots minced
1 pound fresh crabmeat
Zest of one organic lemon
Fine sea salt
Espelette pepper to taste
For the sauce:
½ cup heavy cream
½ cup light chicken stock
2 teaspoons soy sauce
1 tablespoon unsalted butter