Crab Salad with Chili Mint Vinaigrette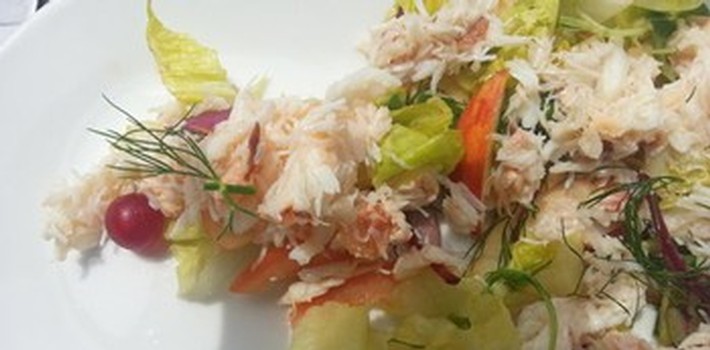 Here's a cool and zippy summer salad which brings a tear to our eyes. After all these year we still get emotional when anyone mentions crab. Back in Annapoliswe were used to lump meat from Maryland blue crabs, of course. Here in France we use the large Atlantic 'tourteau' crab. Good, but not nearly as succulent as blue crab.
Make the chili mint vinaigrette at least one hour and up to 12 before serving. Combine all of the ingredients and whisk in the two oils to taste until you have a nice balance with the lime. Pick over the crabmeat and combine with apple and fresh herb.
Mix the salad leaves with a little olive oil and sea salt. Place a bed of salad on 6 serving plates.
Toss the crab and apple with the chili dressing and mound the crab on the salad beds and serve.
Wine Recommendation
Domaine Jean Fery
Savigny les Beaune 1er Cru 'Les Vergelesses' Blanc 2010

This white Savigny les Beaune 1er Cru from the organica production of Domaine Jean Fery is smoky mineral and pure fruit, one of the great premier cru whites in the Savigny valley.
Crab Salad with Chili Mint Vinaigrette
Serves: 6 Servings

For the salad:
Mixed salad leaves for six small salad garnishes
Extra virgin olive oil, sea salt and freshly ground black pepper
For the crab:
½ pound (230 grams) picked white crab meat
1 apple cored and thinly sliced
Chives, dill, or tarragon leaves
For the chili mint vinaigrette:
2 fresh mild red chilis, de-seeded and thinly sliced
2 shallots, peeled and thinly sliced
Small piece of ginger, peeled and finely grated
Juice of 2 limes
Splash of fish sauce
1 teaspoon soy sauce
Fine sea salt
Extra virgin olive oil and a mild flavored oil such as canola or grapeseed oil
Handful of fresh mint leaves